I almost always have bananas & oats at home. So today the sun is shining and I'm craving for cookies with my tea. As I rarely buy cookies, I make them. And it's easy too! You just start with the oats & bananas and then add whatever you are in the mood for.
You need:
1 cup oats (use gluten free for GF version)
2 ripe bananas (or 3 small ones)
1 big tbsp coconut oil
I added:
2 tbsp coconut rasp
3 tbsp of cranberries
2 tbsp of seed mix
1 tsp of speculoos mix
Then what?
Mash the bananas with a fork in a bowl.
Add the oats and the coconut oil.
Mix until smooth.
Add the extra ingredients of your choice.
Put on an oven tray covered with baking paper.
Make small heaps with two spoons, then flatten with a spoon and shape with your hands to have round cookies.
Put in a preheated oven (175°C = app. 350 F) for app. 15. min (depends on your type of oven).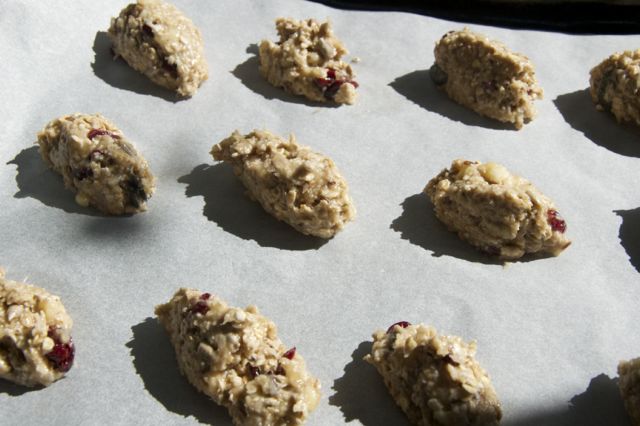 I made with this recipe 14 cookies. After 15 minutes in the oven they are still a bit soft but crispy on the outside. Love it!
Enjoy!