Barcelona. From the first time I went, I loved this city with its vibrant vibe, beautiful architecture and lots of culture. What I did not know is that during the recent years it became the place to be for healthy food. Are you in for a vegan brunch, looking for gluten free bread or planning for a gastronomic plant based meal? No problem in Barcelona.
Let me share some of my favorite places below.
Flax & Kale
A cool interior, easygoing service and lots of space. 80% of their meals are plant based but you also can eat fish. Their meals are just pure inspiration. Think raw zucchini flowers filled with cashew and macadamia nuts and lots of veggies or green power ravioli with spinach and eggplant or grilled watermelon with goat cheese.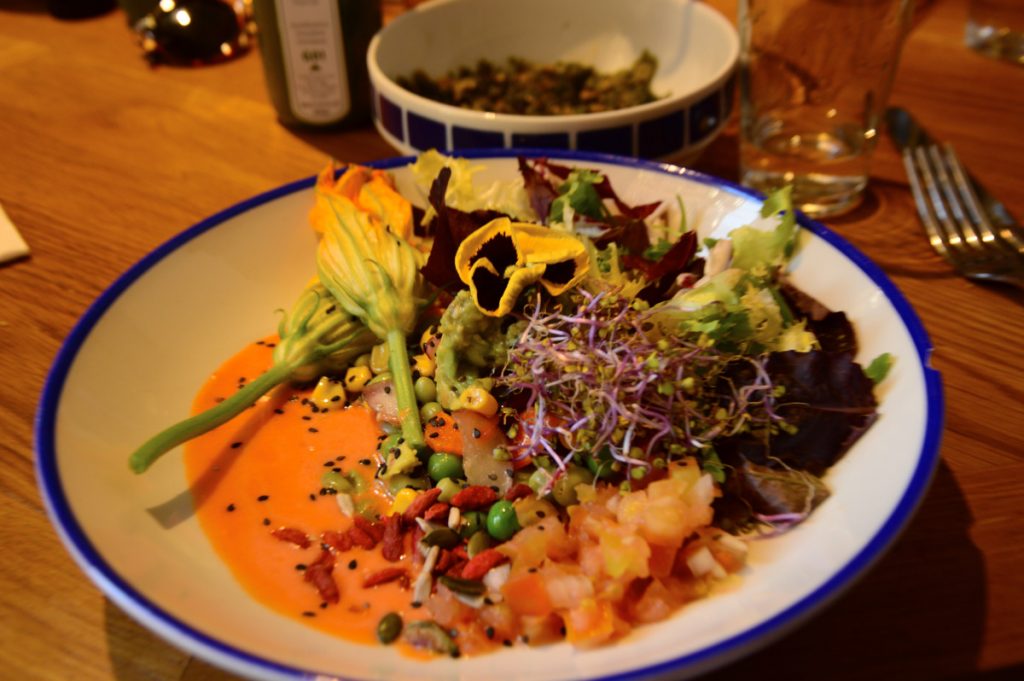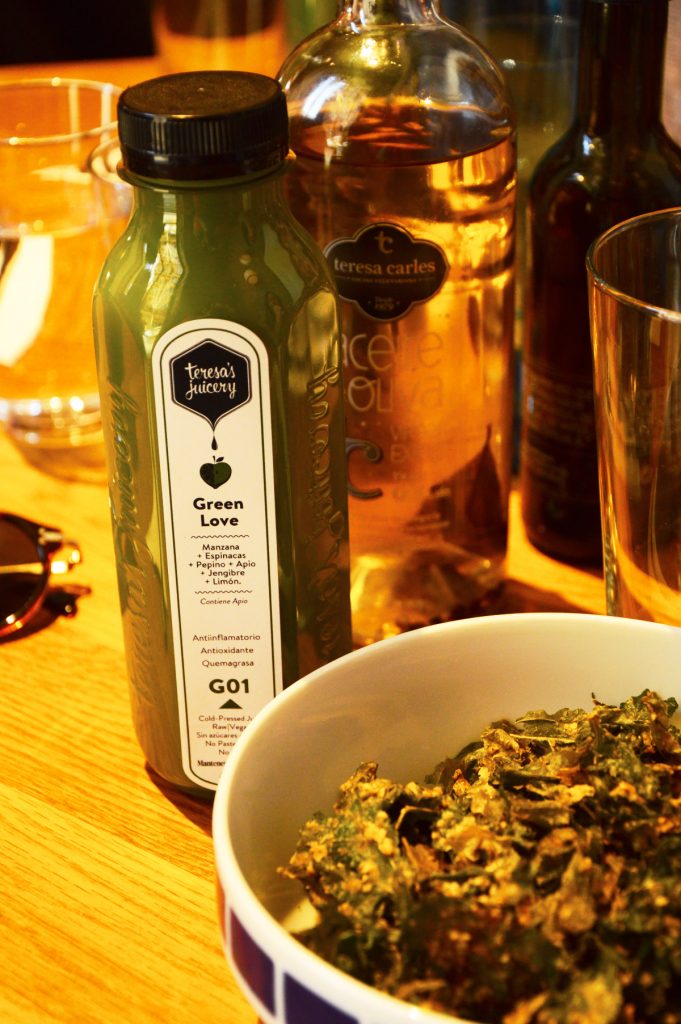 = flexitarian restaurant, 80% plant-based, the menu mentions when a meal is raw, plant-based, gluten free
♥ everything, the interior, the beautiful and tasty dishes, cold-pressed juices
Open for breakfast, lunch, dessert, brunch and dinner
Biocenter
This is a large but cosy restaurant, perfect for big groups. On the menu you can find empanadas, salads, veggie burgers. The food is nice but not spectacular. I did like the possibility to share the dishes.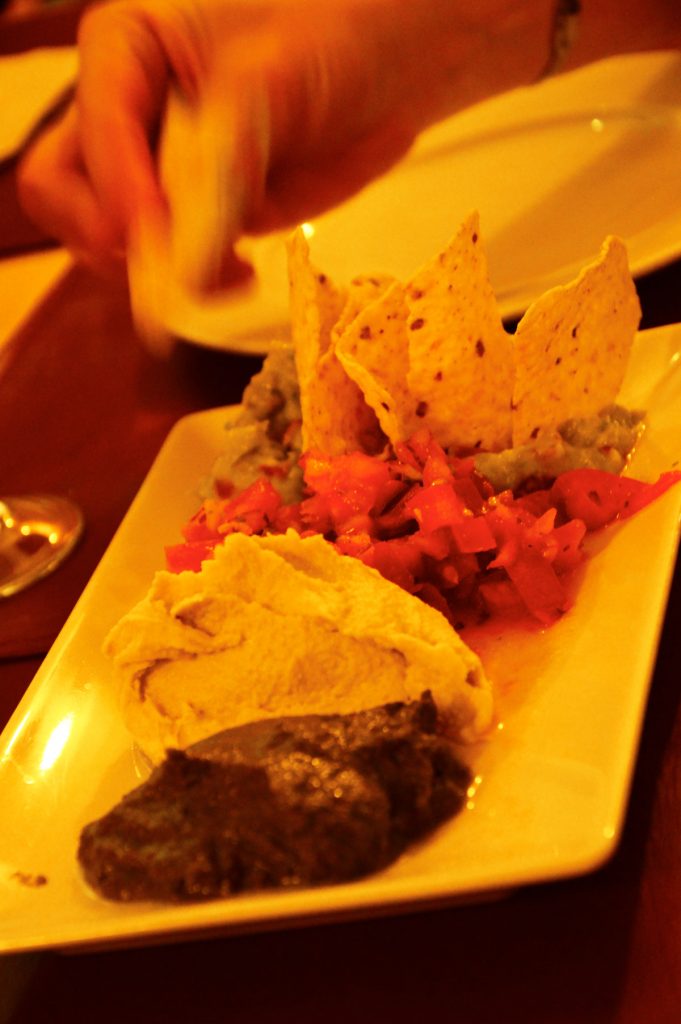 = vegetarian food founded in 1980, the menu marks which dishes are gluten free, vegan and the allergens the meals contain.
♥ perfect to go with a big group
Open for breakfast, lunch, dessert, dinner and there are also events and workshops
Teresa Carles
Teresa Carles stands for VMEH ( vegetarian, mediterranean, artisanal, healthy and tasty). Each dish is invented by miss Teresa Carles herself, a chef with 30 years of experience in vegetarian cooking. I had chia pudding for breakfast (I discovered here how nice it can be prepared), a fresh carrot juice and green tea.
The extensive menu also boasts egg dishes, muffins, seitan hamburgers, bread, soy pudding… Paradise.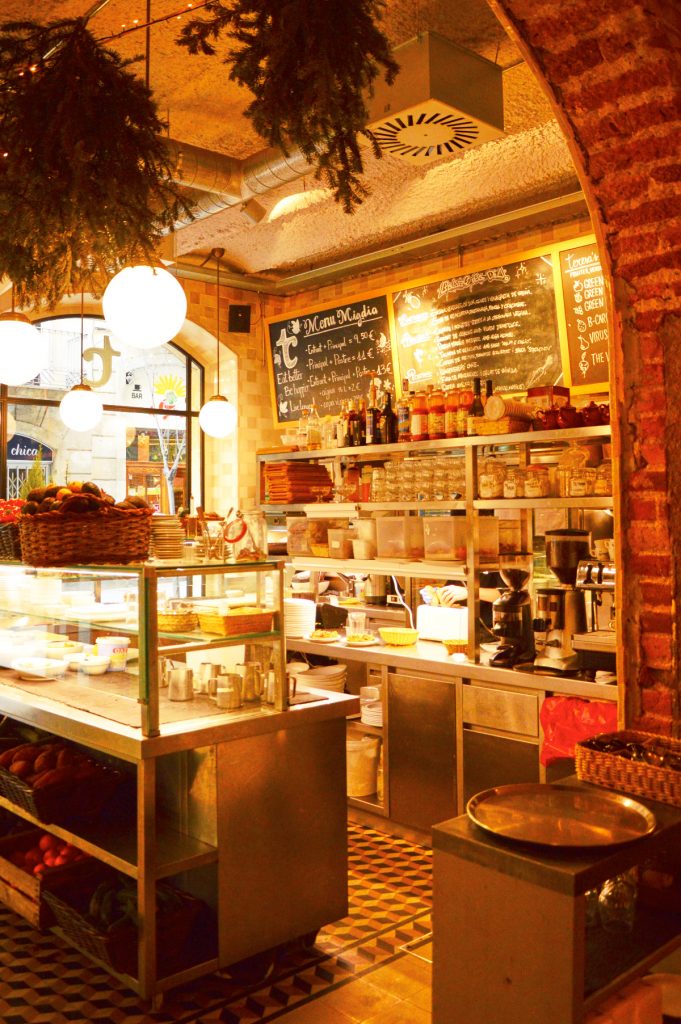 = Healthy food restaurants (2 locations), started in 1979. Other branches are Flax & Kale (discussed above), Teresa's Juicery & Teresa's. The menu @Teresa Carles mentions when a meal is gluten free, vegan, raw and/or contains dried fruits.
♥ the menu is a true inspiration, perfect restaurant to share tapas
Open for breakfast, lunch, dessert, brunch and dinner
La Boqueria
The biggest market in Barcelona is called La Boqueria. It's fun to have a look, if only for the atmosphere. Here you can buy fresh produce. There are a couple of bars and there is a take-out with vegetarian fastfood.
Blue Project
Close to the park in the Born district we discovered Blue Project. This veggie eat café is part of the Blue Project Foundation, an art centre. On the menu: organic meals, inspired by the raw cuisine. I choose a green salad with carrot, avocado and curcuma. Simple but very tasty. Others choose the soup (beet, potato and seeds). Then there is the choice between "Cosmic Pizza" with sundried tomatoes, cashew chips or stew with tempeh and red lentils. I go for the pizza and once again am plaesantly surprised by the pretty, colorful and yummie composition that they serve. We are so happy here that we decide to go for dessert. The 'Unforgettable Cahsew Cake" with cacao and lucuma is indeed inforgettable. The service is easygoing and friendly. An address to cherish.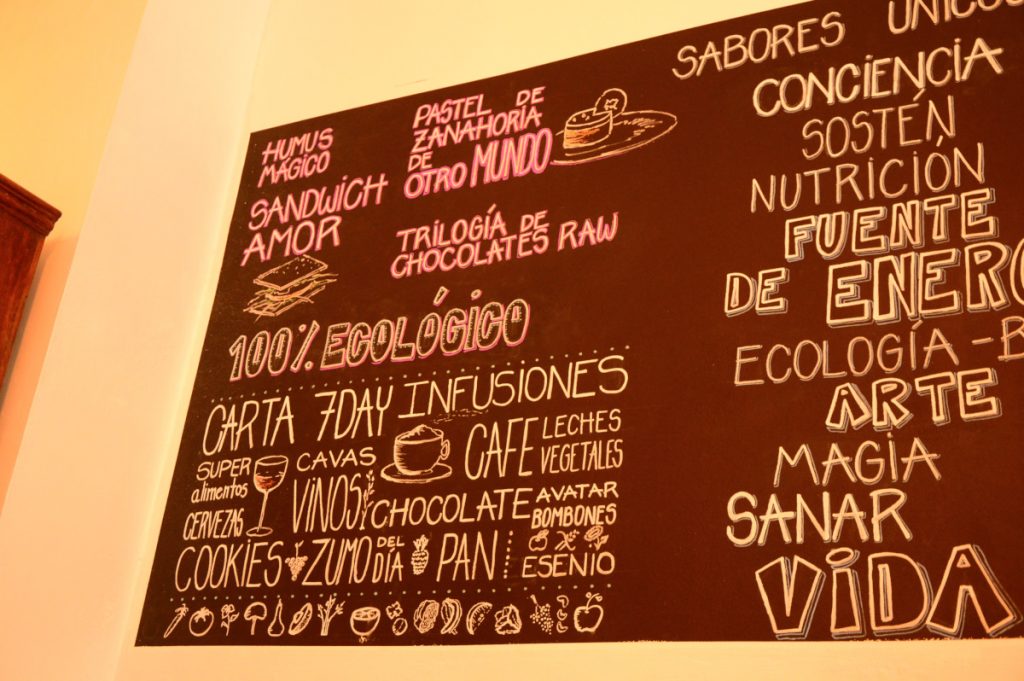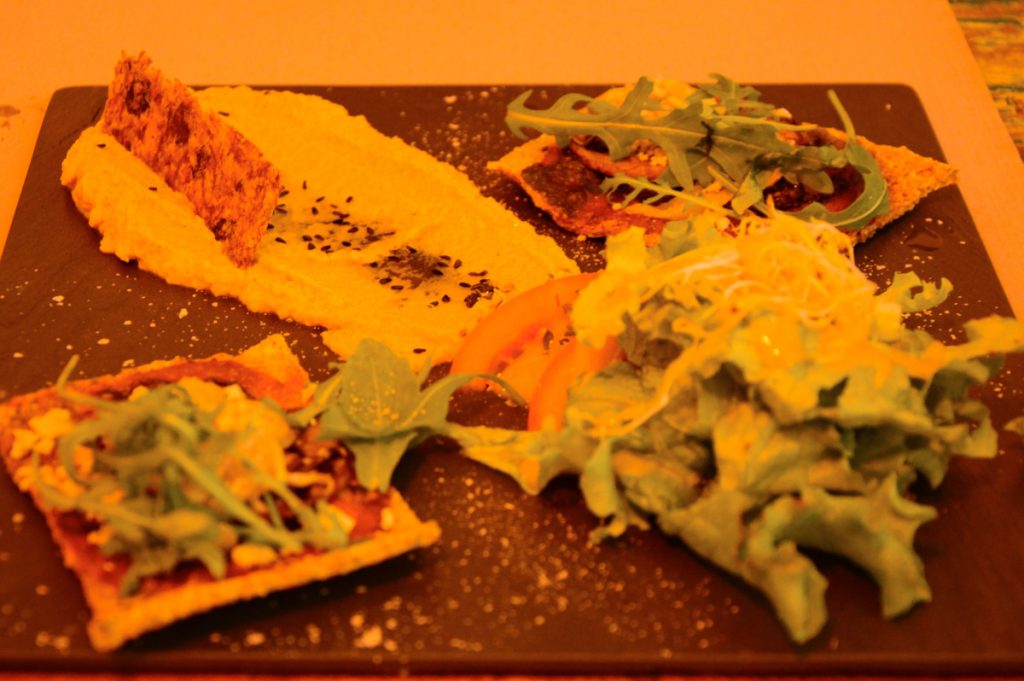 = veggie, vegan & raw food, 100% organic, menu mentions when a mail is gluten free, veggie, vegan and/or raw
♥ tast explosions, raw desserts, open kitchen
Open for lunch, tapas, dessert & dinner
Sésamo
This restaurant was recommended to us by locals as the place to be for veggies. Sésamo is situated in the Raval neighbourhood, close to the Sant Antoni market. It's a cosy restaurant with exposed brick walls, mood lighting and an open kitchen. On the menu it is clearly stated which meals are fully plantbased. We go for the degustation menu where you receive several tapas. We each receive a plate that we can fill with all the delicious stuff they put in front of us. The dishes are original to say the least. For example cauliflower, with pomegranate and tahin, or gnocchi with red beet. All the tastes go surprisingly well together. Eating at Sésamo is an adventure, and the rock&roll attitude of the restaurant crew adds to the experience. For dessert we can not choose so we decide to take several different things and share. The kitchen is not light and we don't manage to eat it all. This restaurant is recommended to have dinner with friends and share plates. Reservation is recommended.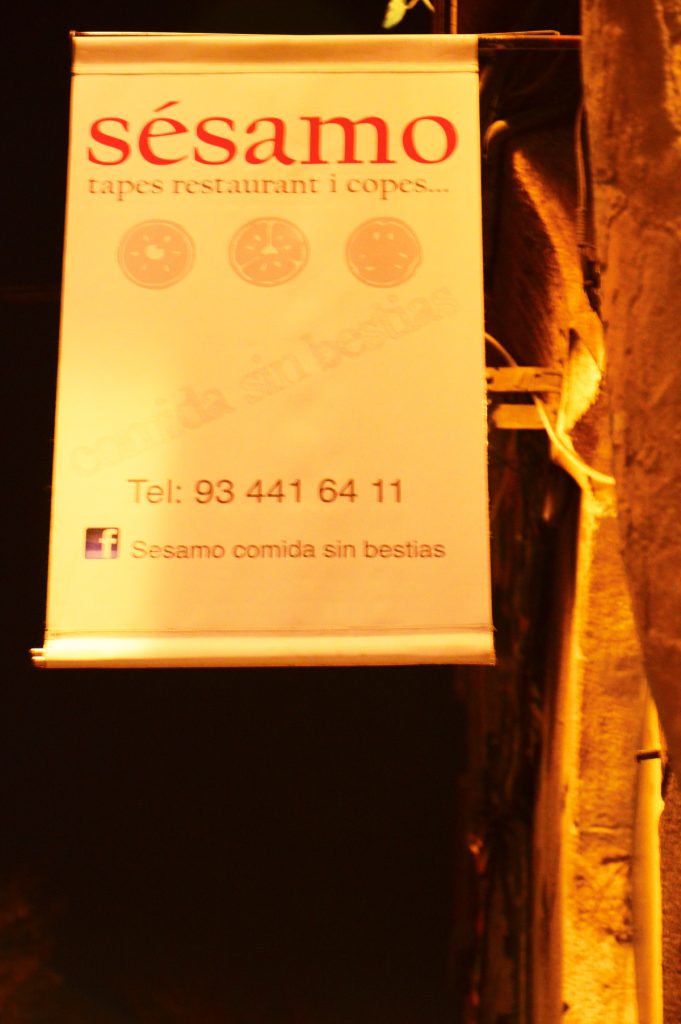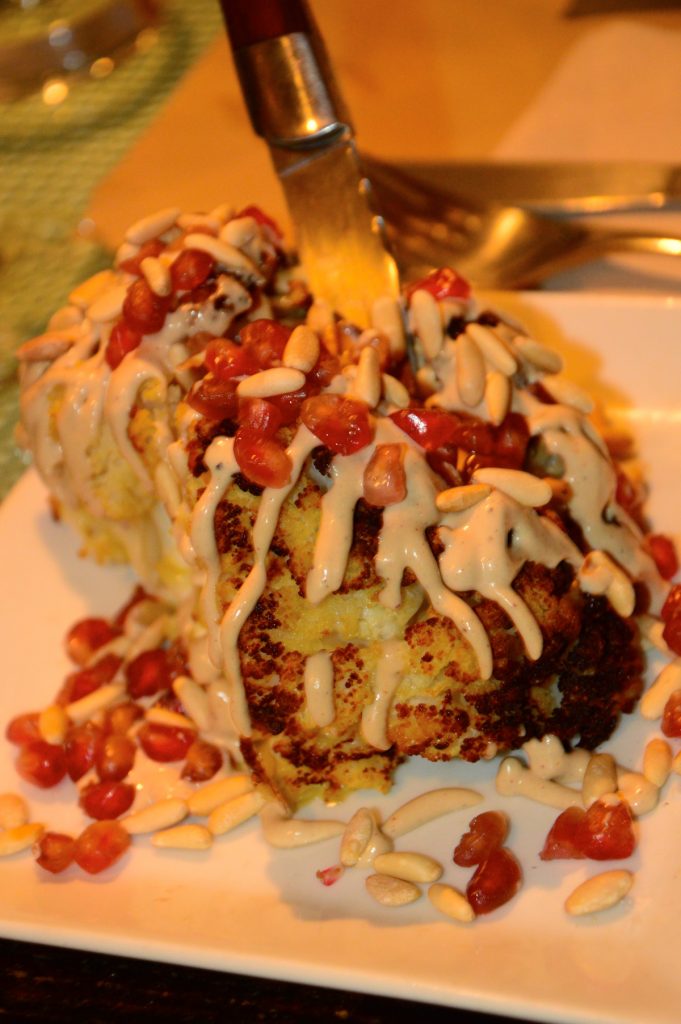 = Veggie/vegan restaurant
♥ rock and roll kitchen crew, no-nonsense service, surprising dishes
Open for dinner
Cafè Camèlia
Before I have to take my flight I go for a quick brunch at Cafè Camèlia. You are welcomed in a cosy, cute interior that feels very homely. On the menu: homemade cakes, muffins and bread. Besides breakfast you also are welcome for lunch, dinner with different veggie & vegan dishes. Pie for breakfast, sometimes that is just what you need.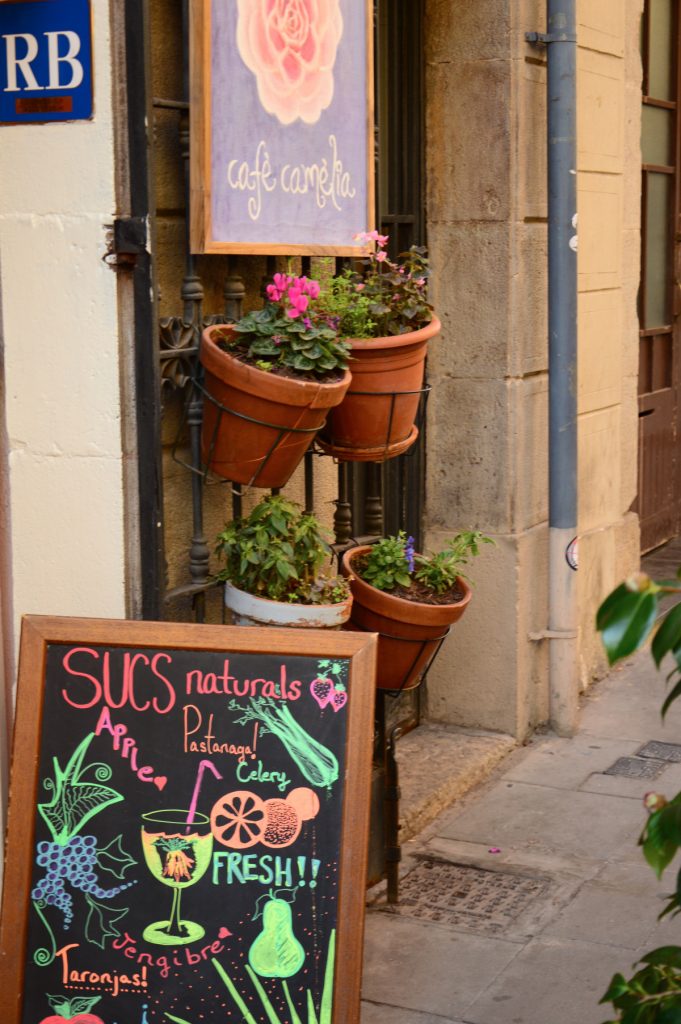 = homemade cakes, muffins, bread / veggie & vegan restaurant
♥ friendly service, cosy interior
Open for breakfast, lunch, dessert & dinner
That trip I spend lots of time in the bustling Gràçia neighbourhood where I was charmed by the amount of fun little shops, cafes and organic shops.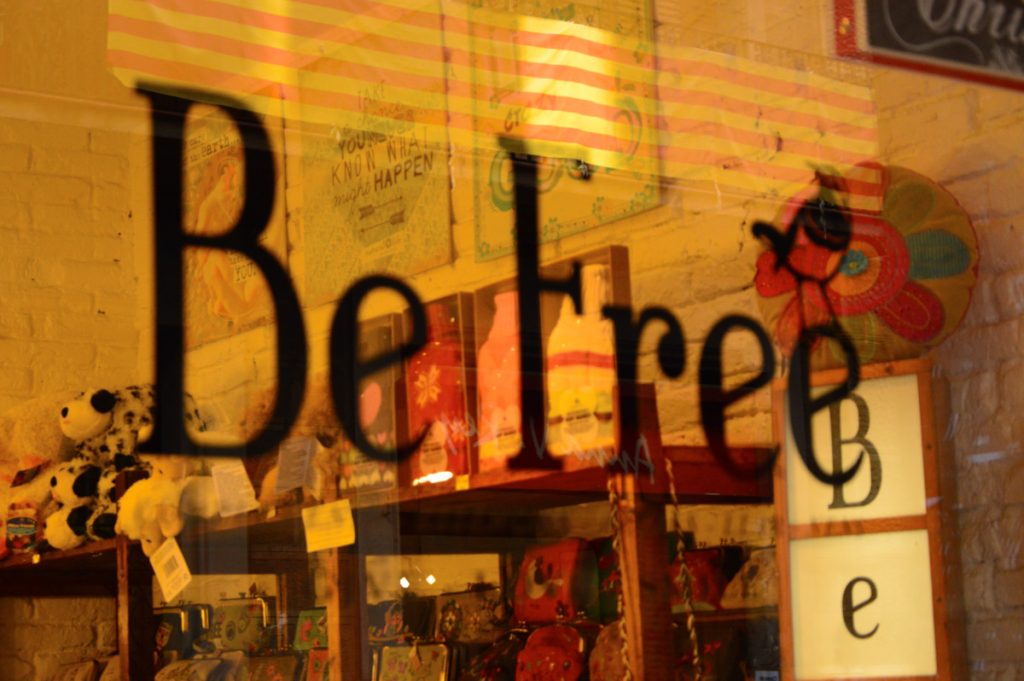 La Comunal (previously Ecobotiga)
Organic veggies & fruit, cereals and dried fruit
4 shops: Sant Cugat, Sent Celoni, Poble Nou & Gràcia
www.lacomunal.cat 
Bocabio
Organic store
Carrer d'Astúries 460
Veritas
Organic supermarket
18 shops in Barcelona
www.veritas.es
Brunch & Cake
On a recent trip we accidently stumbled upon Brunch & Cake, people where having breakfast on the terrace and we decided to go there for lunch later. When we arrived, there was a line! to get a seat, I hate lines, but the food looked so promising that we decided to wait and we did not regret it!
They serve the craziest combinations ever, very photogenic (we saw a Japanese girl take endless pictures before she started eating) but to me taste is still the most important thing and boy was it tasty.
I was in the mood for salad and went for the Loma Linda, California bowl. A surprising dish with sweet potato, nut vegan meat, buckwheat noodles, guacamole, pico di gallo and a kiwi jalapeno sauce. Mike went for the homemade quinoa burger with sweet potatoes, nuts, guacamole, cheese, hummus and greens and fruit. I guess one of the most impressive dish they have on their menu, I mean just look at the picture…
We were tired after a short night, this place simply made our day before leaving Barcelona.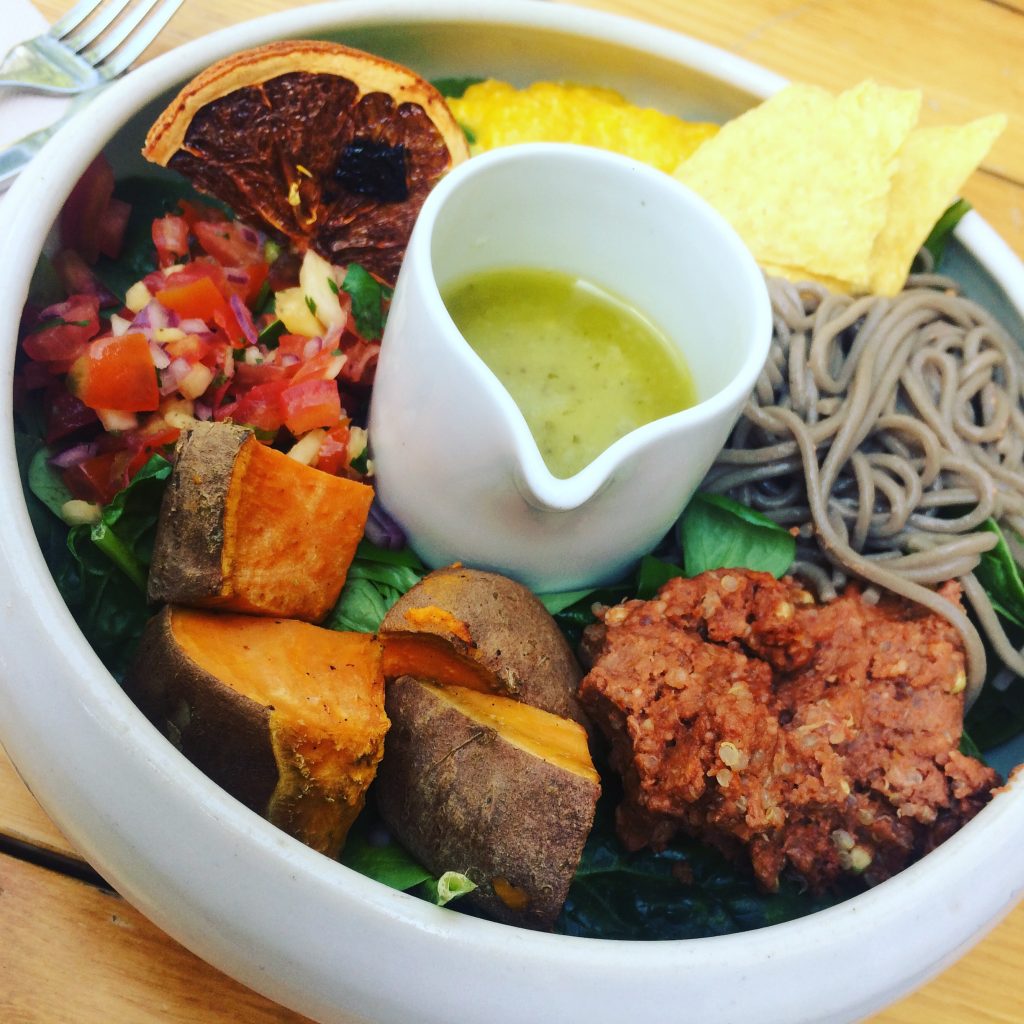 = 6 locations in Barcelona, slow food, where possible organic and local products, best mention any allergy while ordering
♥ crazy yummie creations, funky interior, also check out the travel videos on the website
www.cupcakesbarcelona.com

Not visited yet but recommended by my friend colleague health coach Ana;
OBBIO (supermarket and cafeteria) = typical Catalonian cooking with good products
Biospace (eco supermarket)
OhBo (organic café)
Barcelona is heaven if you want to eat veggie, vegan in cosy, sometimes even hip restaurants. And yes also for everybody else who visits the town.
Interesting websites:
Barcelonahealthy.com
Goodgoal.org