Greenland, by far the country I have been to that I knew the least about beforehand. The only image that came to mind was of colorful houses, vast spaces and the Inuit inhabitants.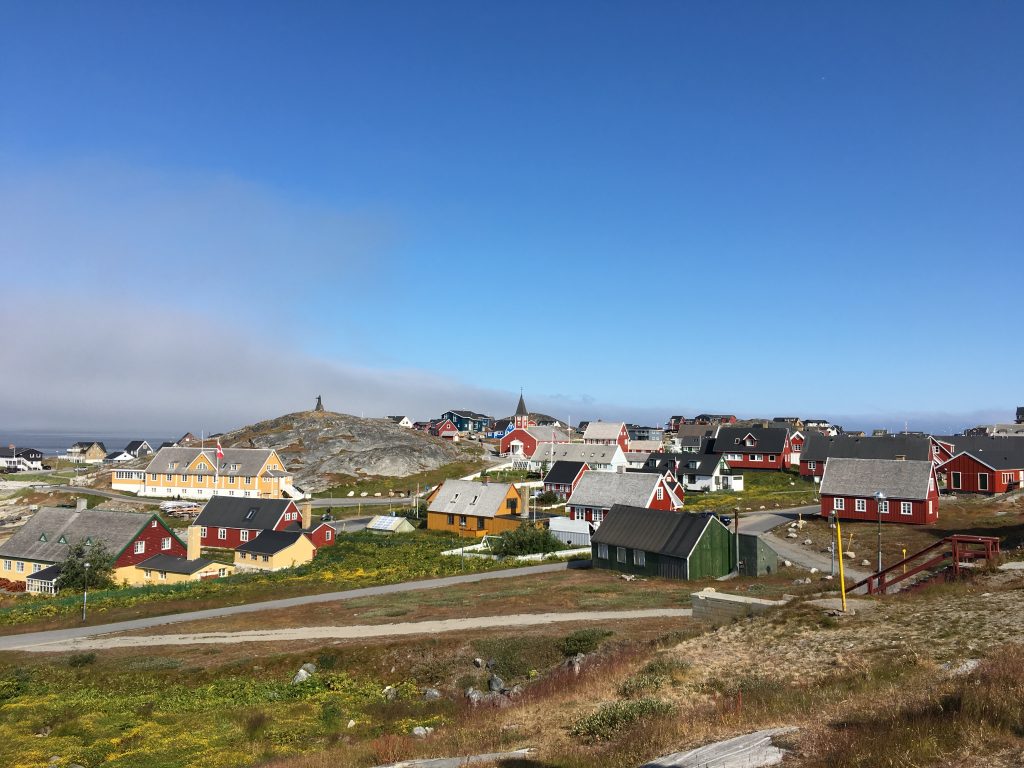 Let's be clear I only visited a small part of the country, having the pleasure to be asked to join a Seabourn cruise from Reykjavik (Iceland) to Greenland and Canada. That being said I'm so grateful to be able to have these first impressions of a country with amazing nature, friendly people and an authenticity you rarely encounter in our westernized world.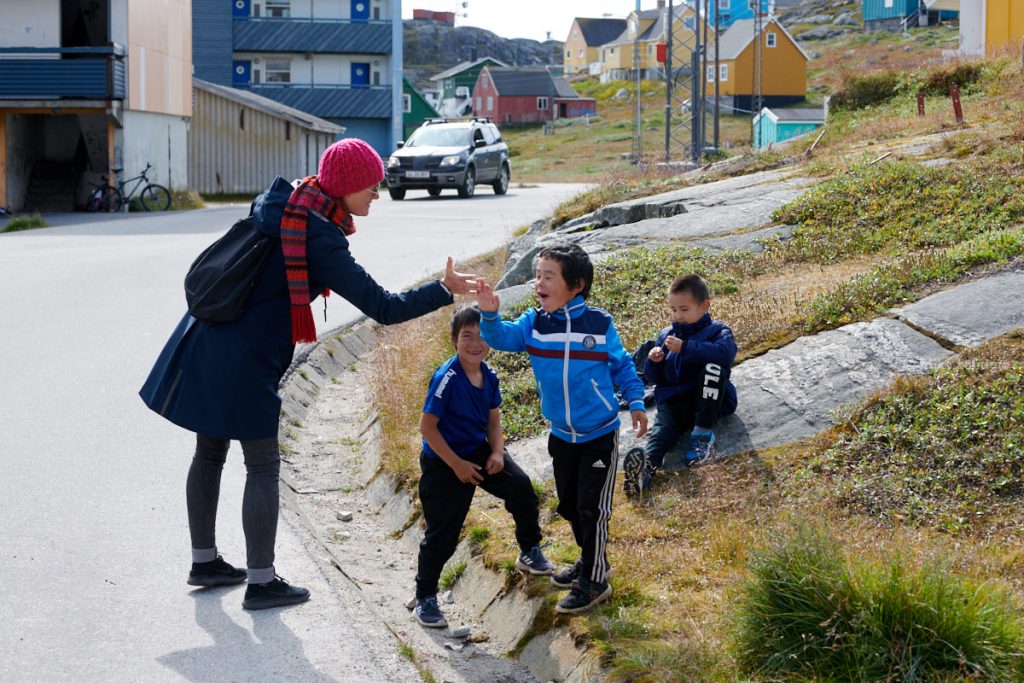 When you visit a country such as Greenland, put your prejudices aside, it's not for the fainthearted to visit. Life is raw, pure and at the same time beautiful. Most of the Greenlanders hunt their own food, and the hunting starts from an early age. They mostly hunt reindeer, whales and seals. Each town does get an assigned hunting quota. One of the local customs is kaffemik, a party they organize in their homes, for whatever that can be celebrated. We were lucky to join the party with the Dion family in Paamiut. We met the lady of the house who had been cooking for two days, the little 3 year-old son, one of the teenager daughters and the ever-smiling father who fondly talked about Greenland and its customs. A large buffet – was set out for the guests in the living room, with all local food such as reindeer, whale blubber (a thick layer of whale fat), seals – in all its variations; smoked, salted, dried and cooked… The whale blubber is quite hard, they cut it in tiny bit pieces and flavor it with soy sauce or stock. It is more popular than the whale meat and it provides vitamin C and oily fats in their diet. At first I was devastated to see what they eat – for a mostly plantbased eater, this is not what you would hope for on a buffet. But this is what is available for them, and as what was explained, they eat/use it all, yes even the organs and – take a breath – the eyes. The only vegetable dish on the buffet was a gratin dauphinois (with LOTS of cream). And the best part of the kaffemik (for me at least); the whole table was set with homemade desserts and yes they were delicious. They made me some tea with locally picked herbs and some of the pies were with the black berries you can find (and handpick) everywhere on the rocks around.

I must say that the locals were friendly in all the places we visited, saying hello on the streets, welcoming us in their homes where they installed improvised shops with handmade art and answering openly to all our questions. They do things their own way. That also implies that you should not expect lots of shops or cafés in the towns you visit. And thank god no Mac D's and Starbucks to be seen, not even in the world's northernmost capital NUUK. Some towns have cafés with very good espresso and everywhere you go you will find supermarkets that also sell baked goods and coffee & tea. Supermarkets can be found in every town it seems. You have Pisiffik, Brugsen and SPAR (also in the Pisiffik group). There is fresh produce but not as we are used to, lots of frozen goods and yes most of them also have an organic aisle. After all Greenland is mostly influenced by Denmark where Ekologisk food is widely incorporated. As most of the country's terrain is covered with ice, there is little good soil to grow fruit and vegetables. The diet of the inhabitants exists mostly out of what the sea has the offer. Besides that they hunt for reindeer, muskox and they keep sheep, mostly in Southern Greenland.
Natural beauty is everywhere, whether it's the sea with small or bigger floating icebergs in it, the mountains with our without walking tracks to enjoy panoramic views. Side note don't trust the locals if you want to know how long a walking track is, they tend to underestimate the distance. This made that I practically ran the entire last bit of one of the walking paths in Ilulissat where you can view from very nearby the amazing Sermeq Kujalleq Glacier. They told me it was only an one hour walk, afterwards I heard it was the longest one and I guess you have to be superwoman/man to do it in that short of time. Then again I was practically alone the whole way soaking up all the beauty and fresh air. And feeling oh so happy and grateful. In Greenland they believe that security is your own responsibility so there are hardly any fences and signs to be found, you can get as close as you dare/want by the ice or water.
Ilulissat was my favorite town, home of the previous mentioned glacier, an unesco heritage site and one of the fastest moving and most active glaciers in the world, dog towns (where the sled dogs reside), restaurants with local food and good espresso and pie. It is also one of the few places where ice from the Greenland ice cap enters the sea.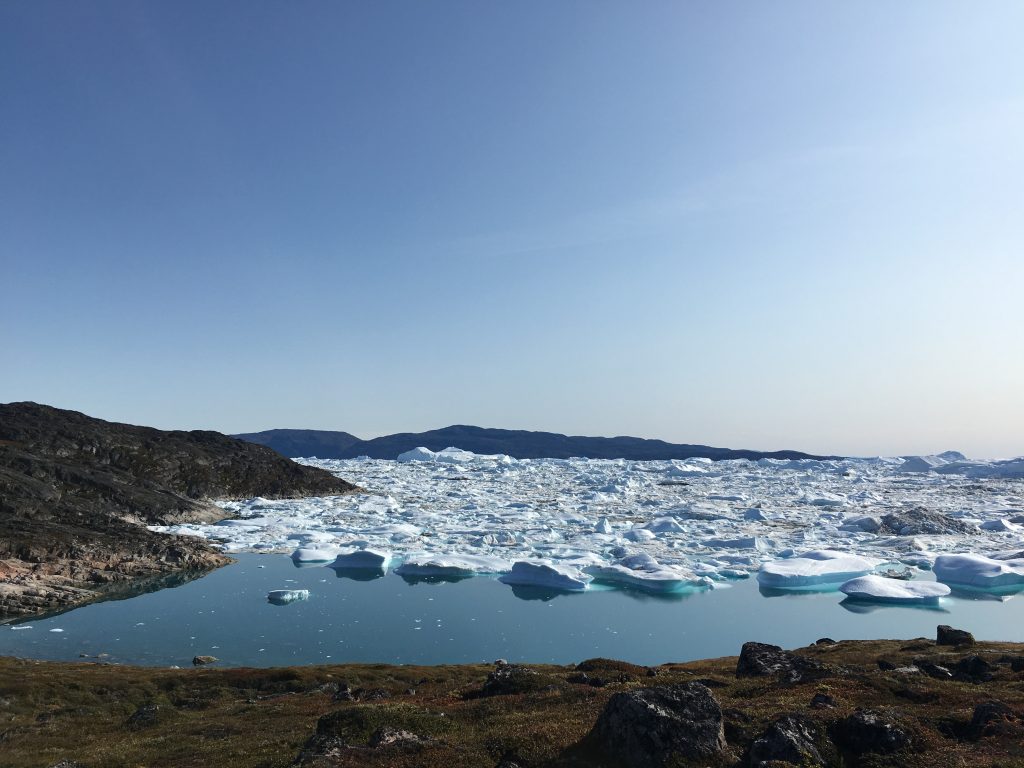 But every place we visited was lovely and surprising. Qaqortoq being the first town we visited with its 18th century colonial buildings. Paamiut,where I will mostly remember the kaffemik, the beautiful dogs, the kids in the street and the beautiful church. Nuuk is for now my favorite capital in the world and by far the quietest one I ever have been to. In Maniitsoq, called Venice of Greenland with its small natural canals, we kayaked under a bright sun and enjoyed the silence and beautiful fjords and mountains around us. In Sisimiut colorful houses alternate with apartment blocks, built in the '50 and '60. All this surrounded by mountains.
Greenland is an autonomous country of Denmark. The currency is the Danish Krone. It is the biggest island in the world and at the same time has the least densely populated territory in the world. The biggest part of the inhabitants are Inuit. A very special place in our world it is. And so much more I want to discover. I learned that there is a ferry line (Arctiq Umiaq) covering different towns between Qaqortoq and Ilulissat. One day I would love to board the ferry and stay in each village some time more. There are hotels and guesthouses in every town. In Ilulissat we had coffee on the seaview terrace of the Icefiord hotel. It would be nice to stay there a next visit.