Ghent is called the vegetarian capital of the world. We even have a weekly veggie day in our city on Thursday. One day in the week is dedicated to lowering the consumption of meat. Local organization EVA is responsable for this initiative and many more in Ghent and Belgium.
So it is probably no surprise to you that we have many veggie & vegan & veggie friendly restaurants in our city. Many of those restaurants make a big effort to work with organic ingredients. They bake with unrefined sugar, in short they add in the good stuff and leave the bad stuff out.
Listed below you can find my favorite addresses.
Le Botaniste
In this 100% organic place they serve plant-based meals. They offer raw food but also hot options, such as the Tibetan Bown (chickpeas, curry, green veggies).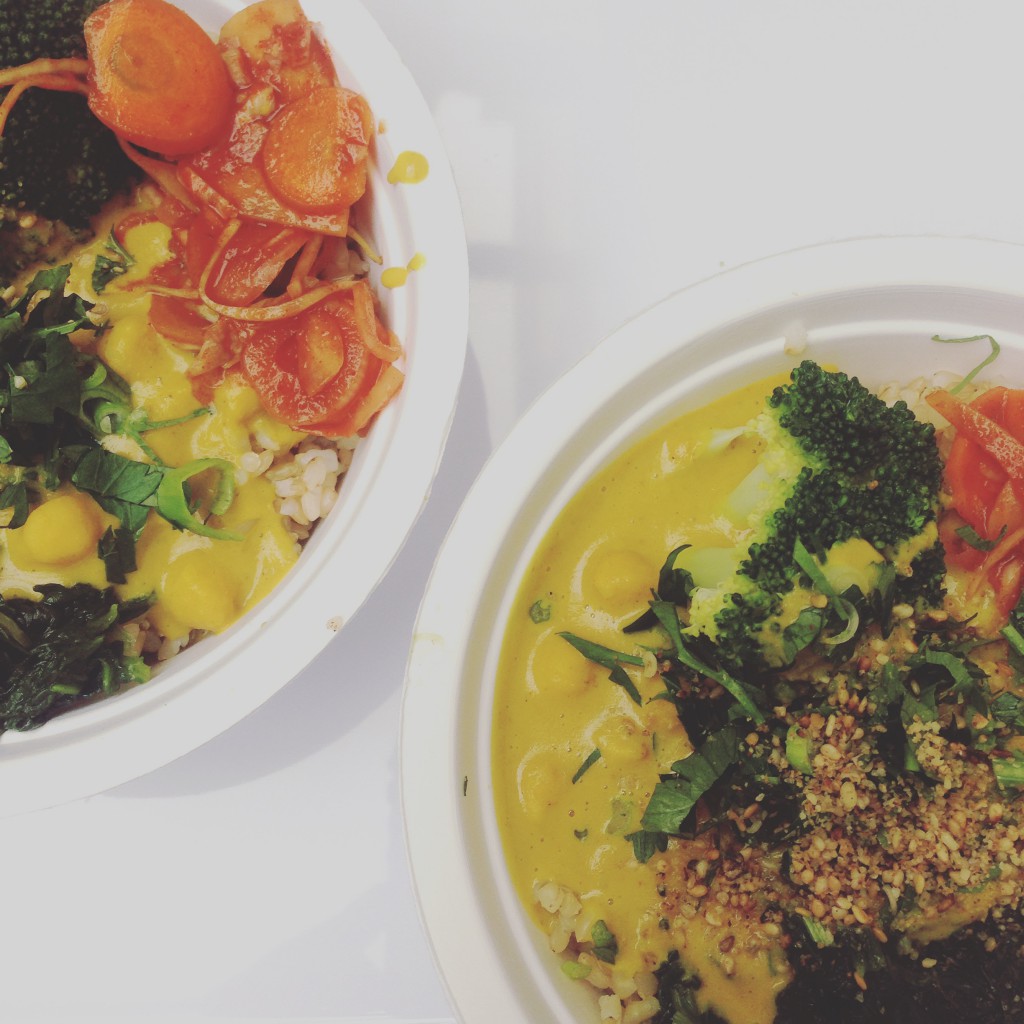 = glutenfree (except the pasta), plant-based, organic, no refined sugars
For lunch, apéro & dinner
♥ friendly service, recyclable tableware, innovative concept, nice interior
Pain Quotidien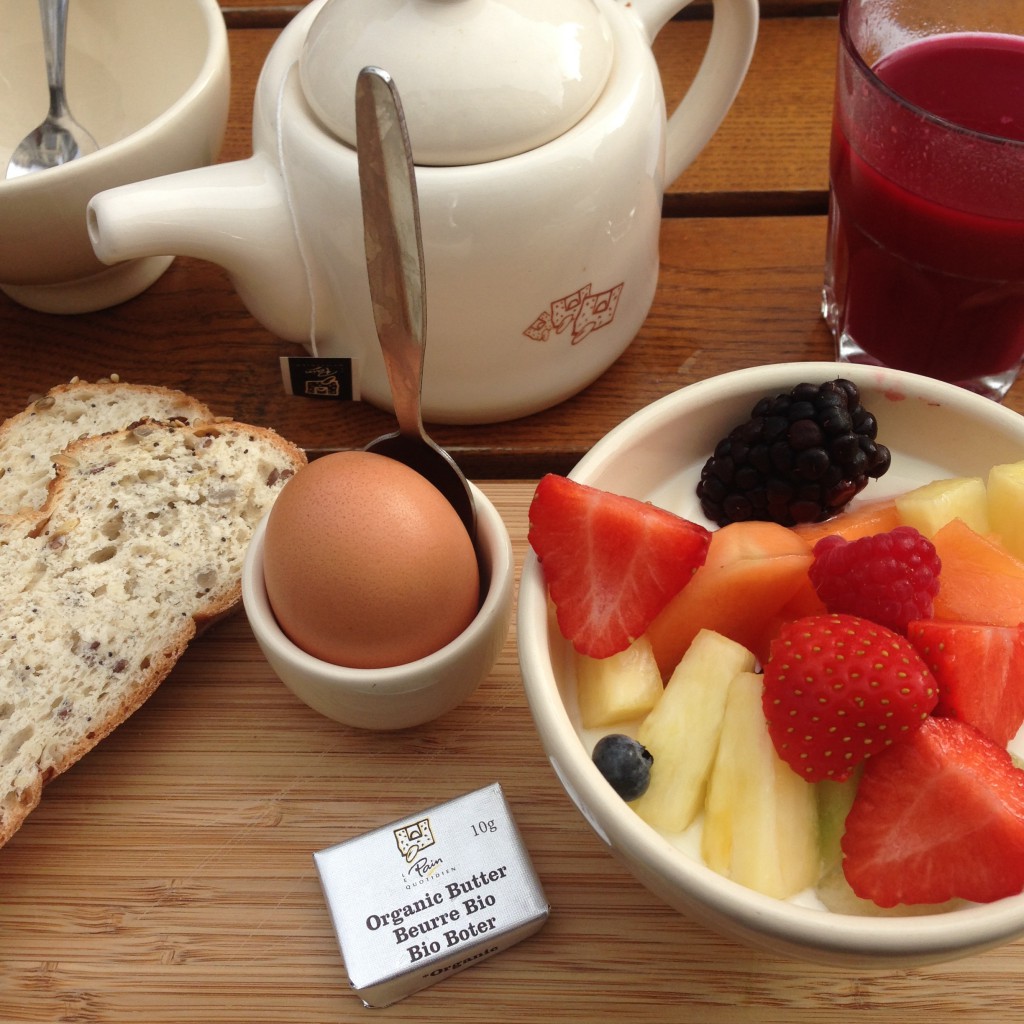 Alain Coumont started this popular restaurant concept many years ago. Now you can find the restaurants all over the world, there is even one in Central Park in NYC. People gather around the big wooden table or at the individual tables. On the menu you can find many healthy options, a lot with bread but also enough warm & cold options if you don't eat bread.
= they have glutenfree, vegan & veggie options. Lots of items on the menu are organic
♥ soup, cozy, quality, almost always open, nice terrace on one of the cosiest squares in Ghent
Vooruit
One of my all time favorite places in my city. I come here for studying, working (I'm sitting here while I'm writing this down), socializing, concerts, lunch… It is an arts center and a meeting place in a beautiful building (more than 100 yrs old, once the Vooruit Cooperatieve), located in the student neighbourhood of Ghent.
= they mostly work with organic and/or fair trade products. On the menu; fresh soup, daily lunch (always a veggie option), pasta, seasonal salad (veggie option)
For (late) breakfast (granola), lunch & dinner
♥ atmosphere, music playlist, friendly crew, decor, one of the best terraces in town, good prices, a place where everybody is welcome and feels good
Noah
At the docks in Ghent you can find the wonderful boat restaurant Noah. They serve lunch but also organize late night apero evenings. Inge & Sigrid are the super friendly initiators behind the concept. The first time we set foot on the boat, Mike (my partner) already decided to organize a party there. They have tables for two but also a communal table or you can sit at the counter and dream away looking through the windows with a view on DOK Gent and the water. They serve light salads, sandwiches, soup and cake with a big focus on healthy.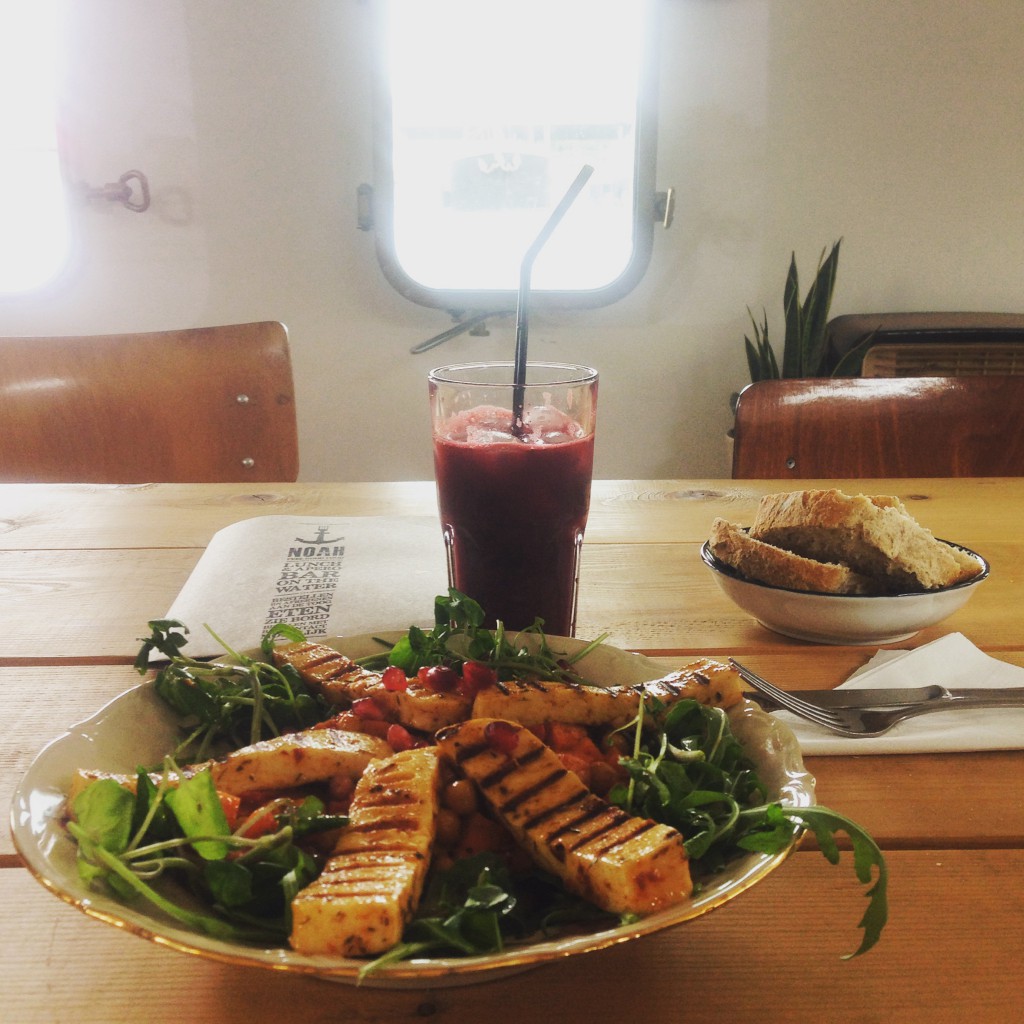 = healthy & local food
♥ It's on a boat!, the friendly crew, the delicious food, the sofas, the view, chilling on the upper deck, a place for young and old…
For lunch, apéro & parties
Pacha Mama
It took us some time to discover this vegetarian restaurant in the student neighbourhood even though we lived very close for a while. In a calm white interior with plants and a library full of cookbooks you can enjoy your veggie lunch.
= daily vegetarian lunch, vegan by request
Open for lunch, coffee and drinks
♥ a plate full of veggies prepared in original ways, cheap, terrace away from all the noise and crowds
Avalon
The most famous one in Ghent. Chef Tine and her young team stand for yummie daily lunches in a fine restaurant near the Castle of the Counts (Gravensteen). Tine also writes cookbooks and there are workshops and events (given by Marijke De Coninck – Tine's mother and others).
= vegetarian & organic & local food, macrobiotic inspired
For lunch, cooking classes
♥ colorful plates, location, nice terrace away from the crowds
de Zuidkant
Ellen and her team welcome customers in a beautiful cozy house and garden in Gentbrugge (less than 10 minutes from the city centre). They serve daily lunches, vegan lasagne and a couple of days a week there is a buffet a volonté in the evening.
= local, veggie & healthy food
For lunch and dinner (check the website for the opening hours)
♥ the garden, a paradise for kids and adults, the beautiful house
Moor&Moor
This has become in no time, one of my favorite places in Ghent. Yves de Moor started his grocery store with real food on the corner of one of the hippest streets in town (Onderbergen). They serve local products, brew their own coffee blend. They choose the products they sell by the Pure LOVE principles: pure, local, organic, meat-free and ecologic.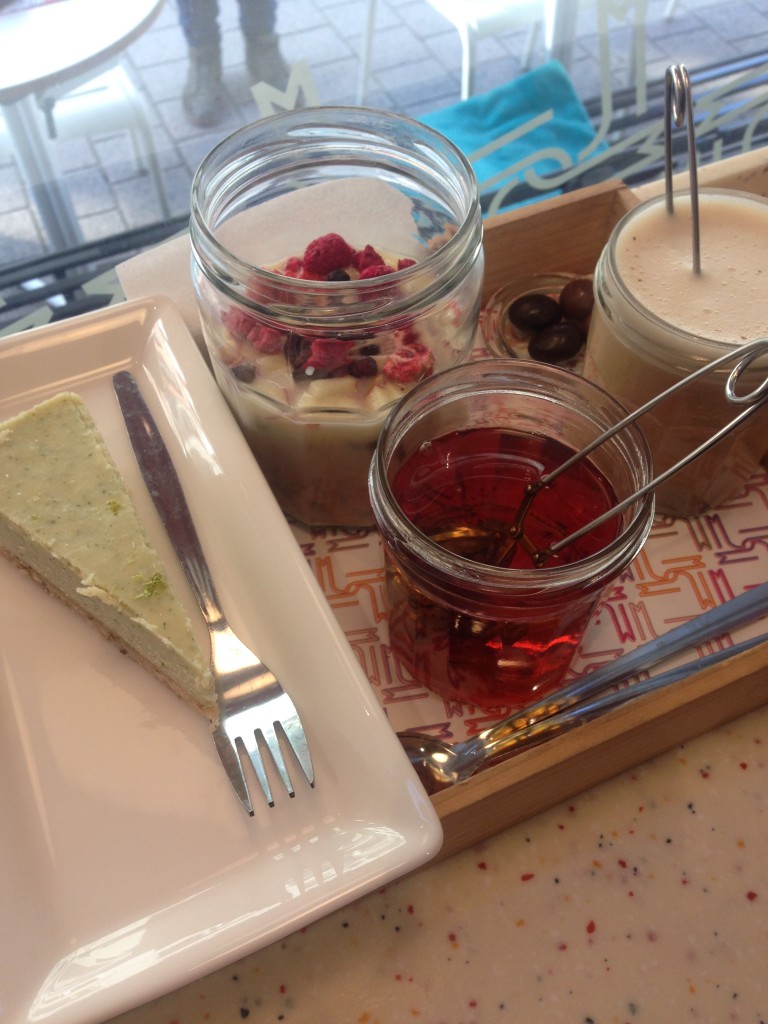 = organic, veggie & vegan options, local, gluten free options
Grocery store, open for breakfast, brunch, lunch
♥ chai latte (with soy or oat milk), vegan cakes by All Good Cuisine, terrace in the sun (perfect for people watching), the sitting area on the first floor, chill atmosphere
Lokaal
A tea bar where you are also welcome for healthy, low-budget meals such as quiches, salads and stews. Arno welcomes you with a smile in his small cozy place in the middle of the red light district (yes there is one in Ghent too).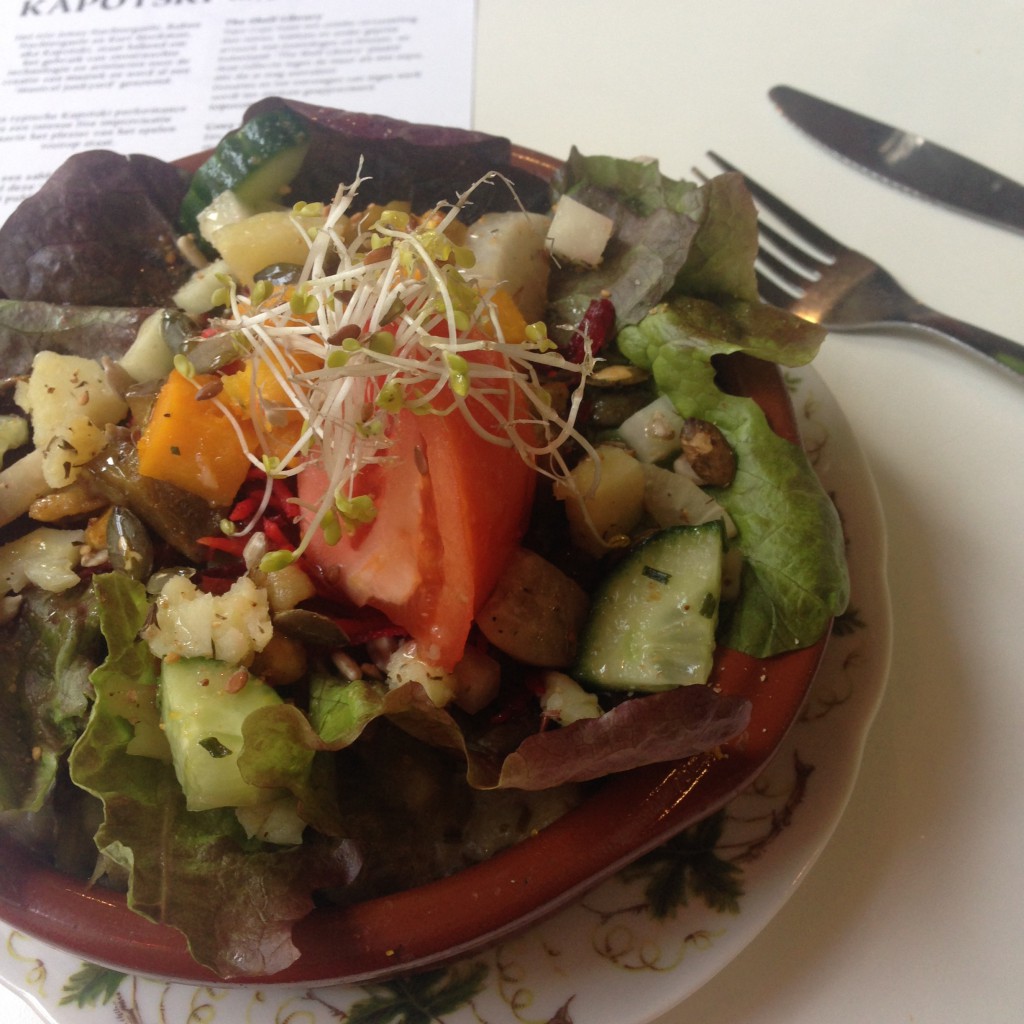 = local, healthy, organic, veggie
For lunch & dinner
♥ their tea menu, the pink-tiled counter, smiles & easygoing atmosphere
Illie Mangaro
In the new exciting DOK Noord project, Ilse created a foodie heaven. She has been a caterer for years and now in her beautiful industrial place she organizes weekly lunches on Thursday and Friday, sometimes Thai, Moroccan or Italian inspired. There are always vegetarian/vegan options.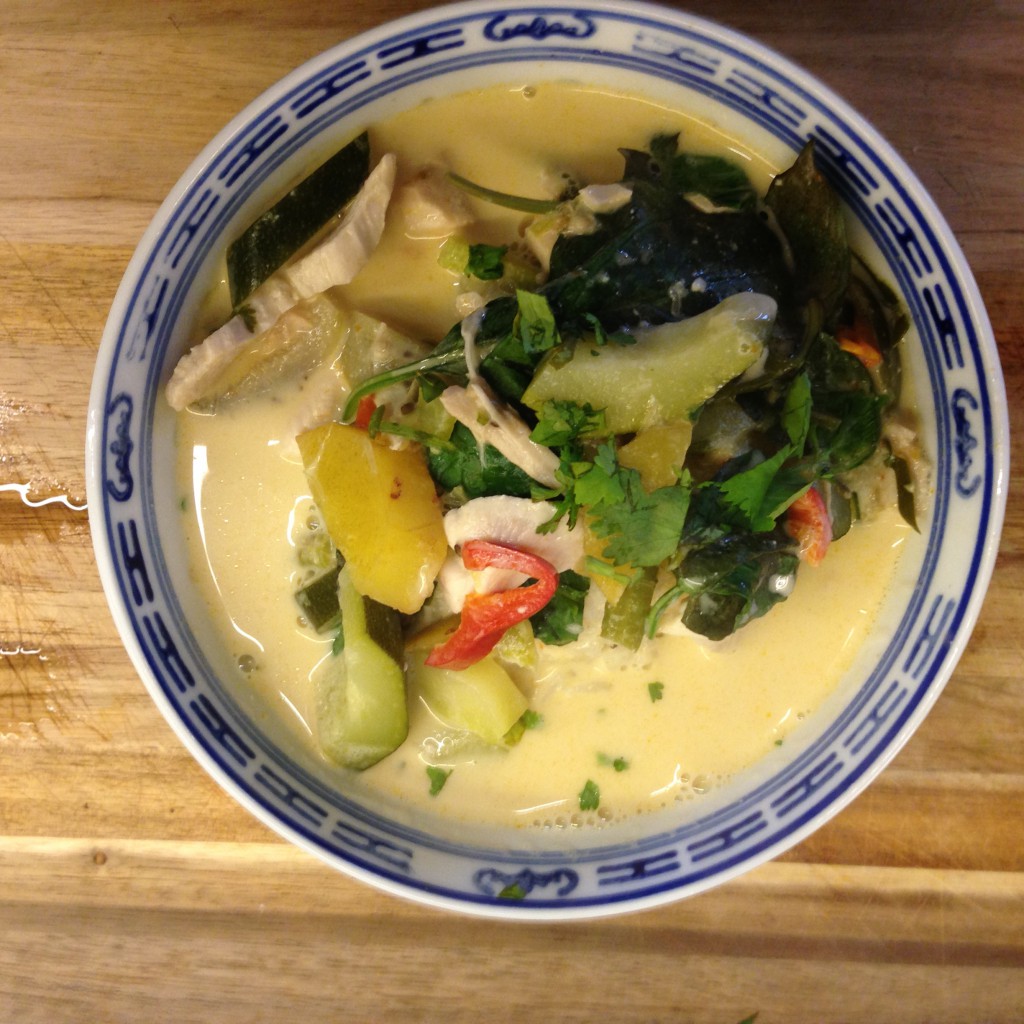 = veggie & vegan options
= Lunch on Thursday and Friday, events, after work parties, monthly yoga & brunch events, event catering
♥ the industrial look of the place, the view on the water and DOK Gent, the original tasty food, yoga & brunch Sundays.
BEO Markt
The best place in town for organic veggies & fruit, legumes, nuts, bread by de Trog, cheeses, wine, coffee and more.  They buy straight from local producers and manage to keep their prices lower than elsewhere. There is a juicebar with cold pressed juices and energy balls for sale and they plan to offer food also. Stay tuned.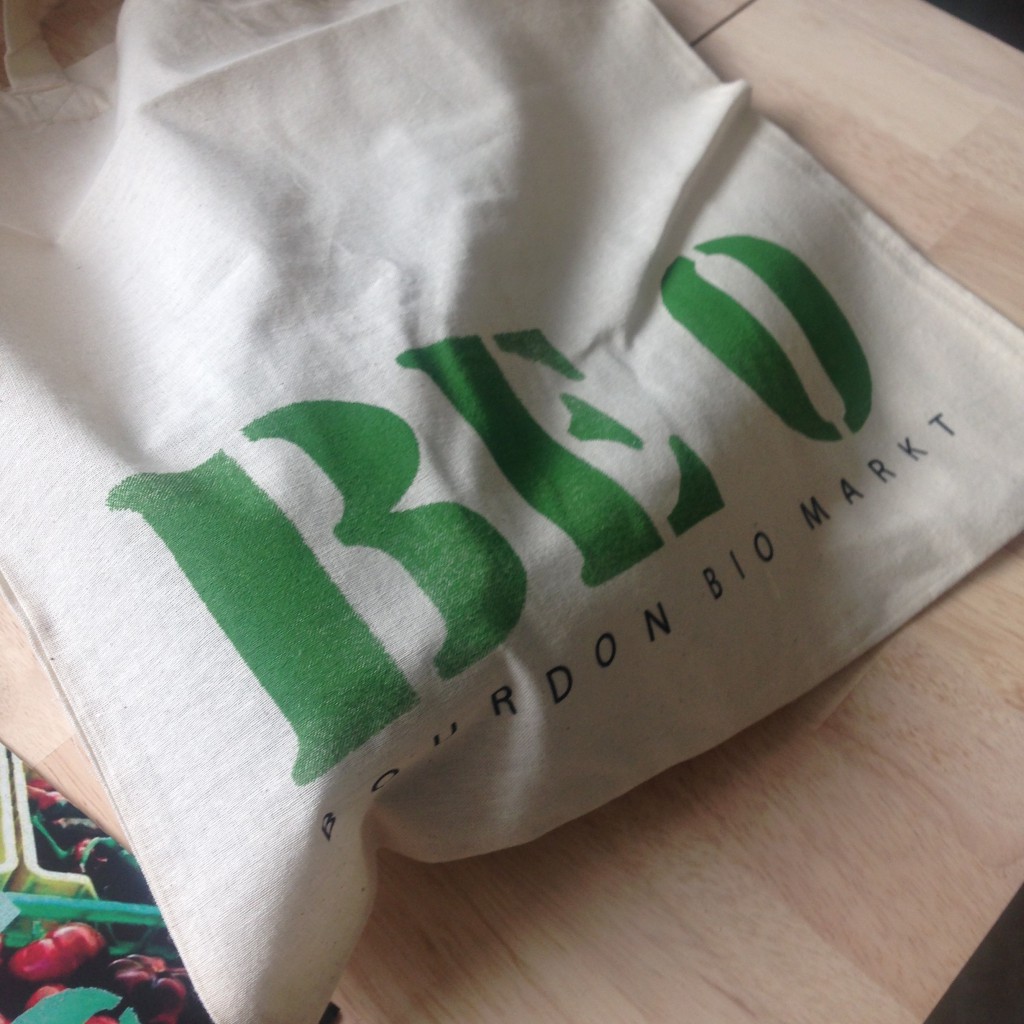 = a covered market hall in the city centre where they sell organic and fresh food
♥ quality of the veggies, open on Sunday, the juices, cheapest place in Ghent to buy nuts
Organic Market Gent St. – Pieters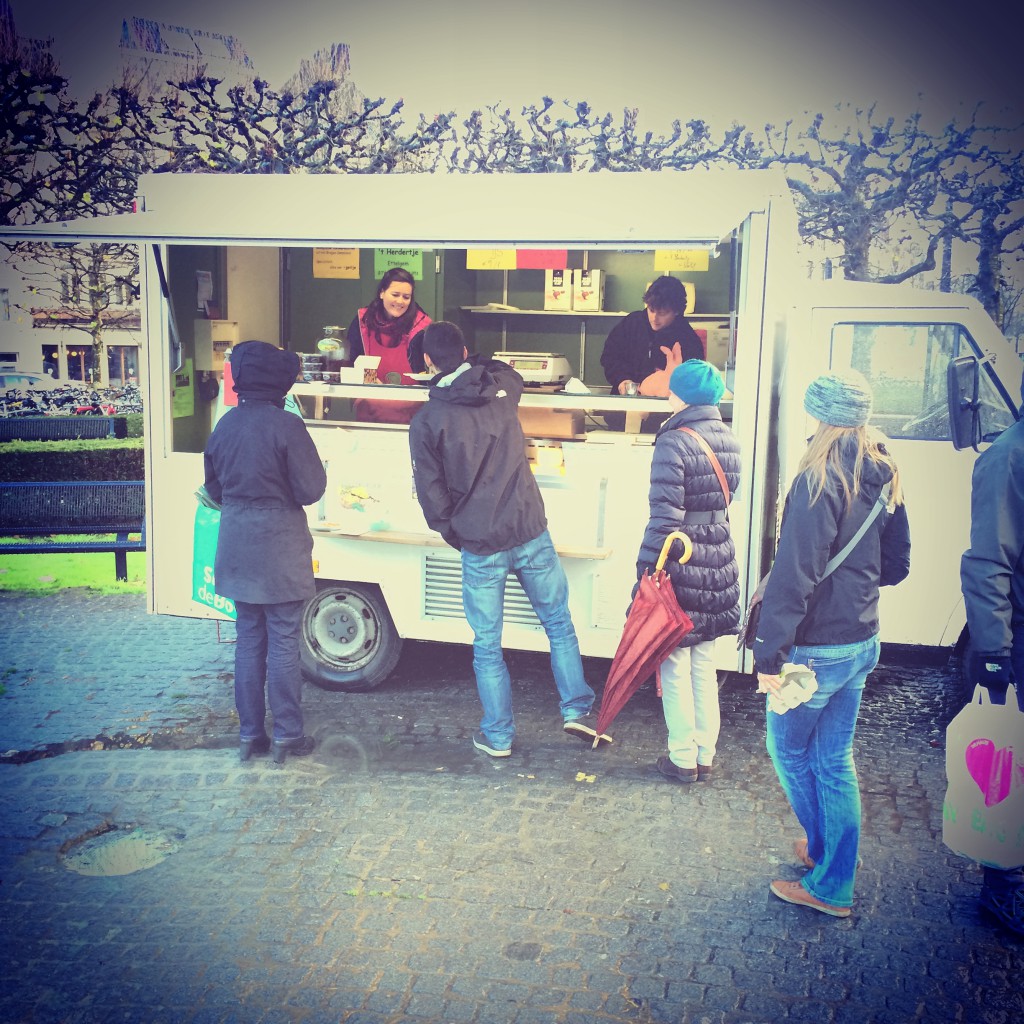 In front of the main train station every Sunday morning you can buy organic veggies ('t Ambrozijn, cheeses ('t Herdertje), organic meat (Dubbeldoel) and sometimes quiches (Tarte – A – Terre). Oh and I also have sometimes a stall on the market, selling gluten free goodies, fresh juices, nuts and more organic stuff I love.
Barbiet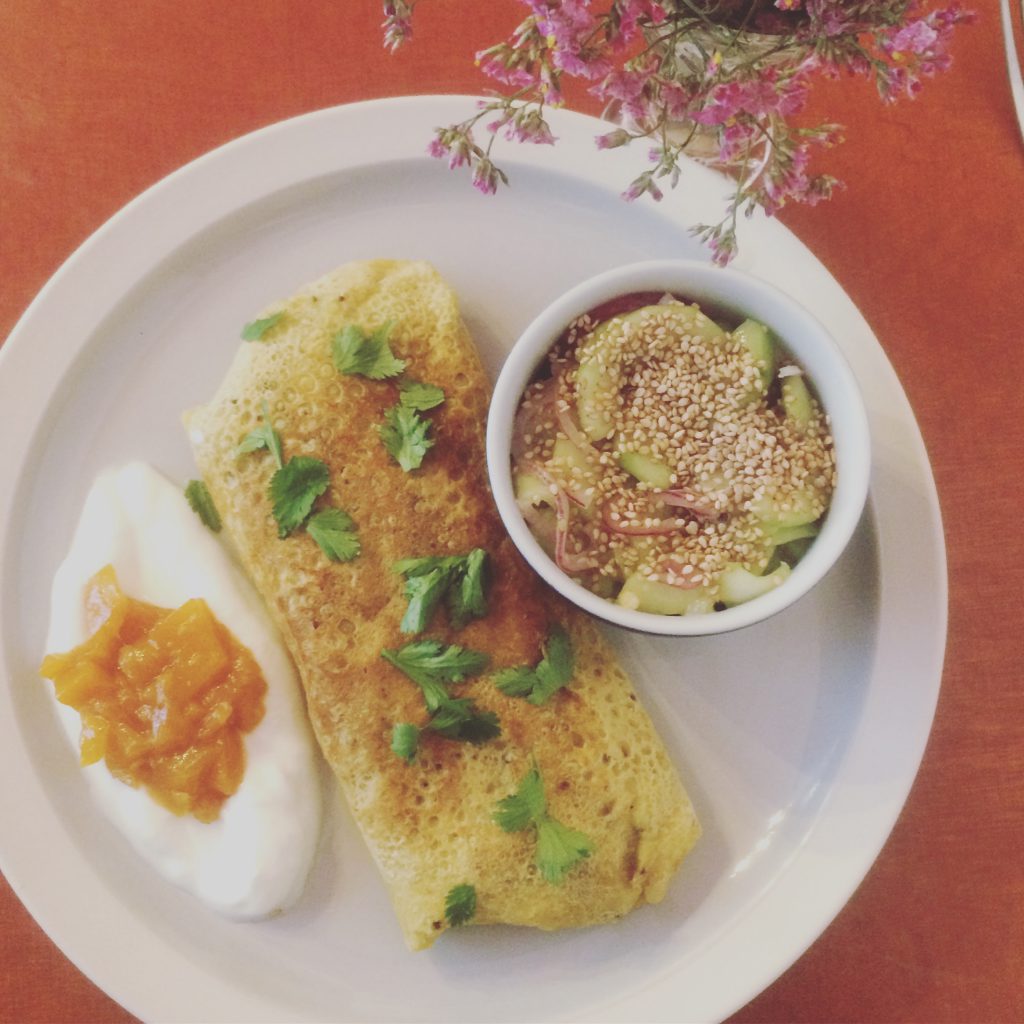 My favorite place for lunch. Maxime and Christophe serve delicious homemade international inspired meals. Don't expect a boring salad or croque monsieur here, every week they seduce their customers with original tasty dishes. Not to forget their cakes, tea by Be Your Tea, homemade chai (oh my!), cold-pressed juices and good coffee.
= gluten free, veggie & vegan options (noted with GF & V on the blackboard)
Open for breakfast & lunch
♥  plant-based dishes, Barbiet juice, vegan cake, the smiles
Madam Bakster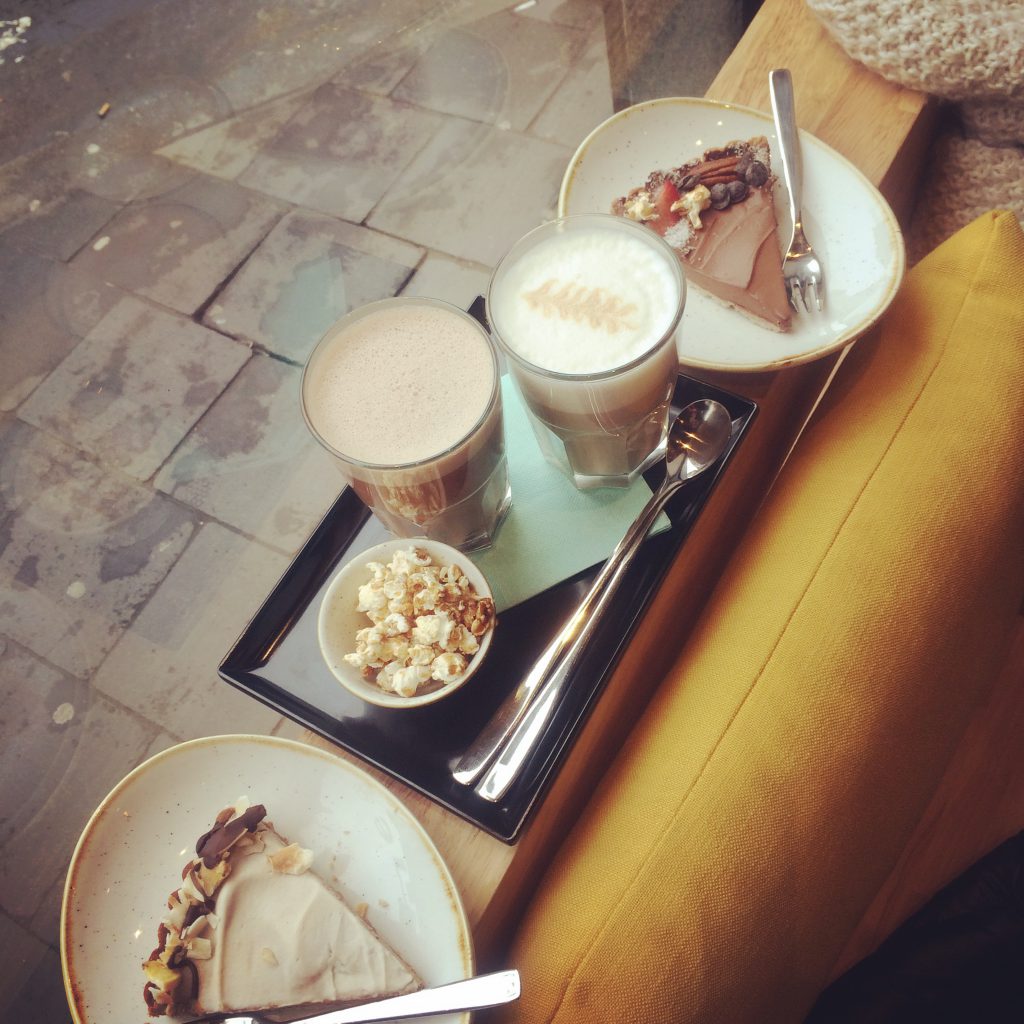 Probably the cosiest place if you are looking for a warm comforting drink and a guiltfree treat. Superwoman Laura (aka madam bakster & her hero Kobe make plant-based cakes with natural healthy ingredients such as avocado and coconut cream. There was already an online shop and now there is also the coffee house.
Laura wrote a baking book so if you are brave enough you can try to make some of her delicious recipes at home.
= 100% plant-based coffee & tea + pie house, gluten free options
Open for breakfast & cake
♥ Cake Camille & Daisy (yes the cakes have names), mate (South American herbal drink) and their homemade plant-based milk
Plus+ Gent
In the mood for a salad of a breakfast bowl, head to Plus+, owned by sisters Lien & Sofie, the location is superb on the Ajuinlei, one of the prettiest streets in Ghent if you ask me with a terrace overlooking the water. You can create your own organic salad, adding a vegan/ veggie or animal protein of your choice.
= organic, gluten free and vegan options,
Open for breakfast and lunch
♥ Choice of organic salads, cakes by All Good Cuisine, breakfast bowls, cold pressed juices
Oyo
Friends Ellis & Phaedra started their business adventure last year. @Oyo you can taste their homemade yoghurt, healthy lunch, cakes and tapas. All kind of activities take place @Oyo, book launches, pop-up shops and more, check their Facebook page to stay up to date.
= healthy breakfast, coffee, cake & lunch, gluten free & vegan options
Open for breakfast & lunch
♥ homemade yoghurt, original homemade hot drinks, cold-pressed juices by BEO
I truly love these places and my hometown city.
I will be happy to show you around, look for that place where you can eat a gluten free lunch or go for brunch with your family (whether they like it vegan or not).
Pop me an email (veronique@pure-thing.com) and I gladly make you a tailor-made program.
Love.
Véronique