Everybody is baking banana bread and so am I :).
Every week I order 5 bananas @ the organic farmer, so the end of the week I have some ripe bananas left.
I don't really follow the same recipe, whenever Im' ready to make a banana bread I look in my cupboard what else I have that I want to add to this baking.
These days I mostly bake with spelt flour as I bought way too much for my last pop-up :). I don't add extra sugar, I don't like it too sweet, (just some coconut sugar on top).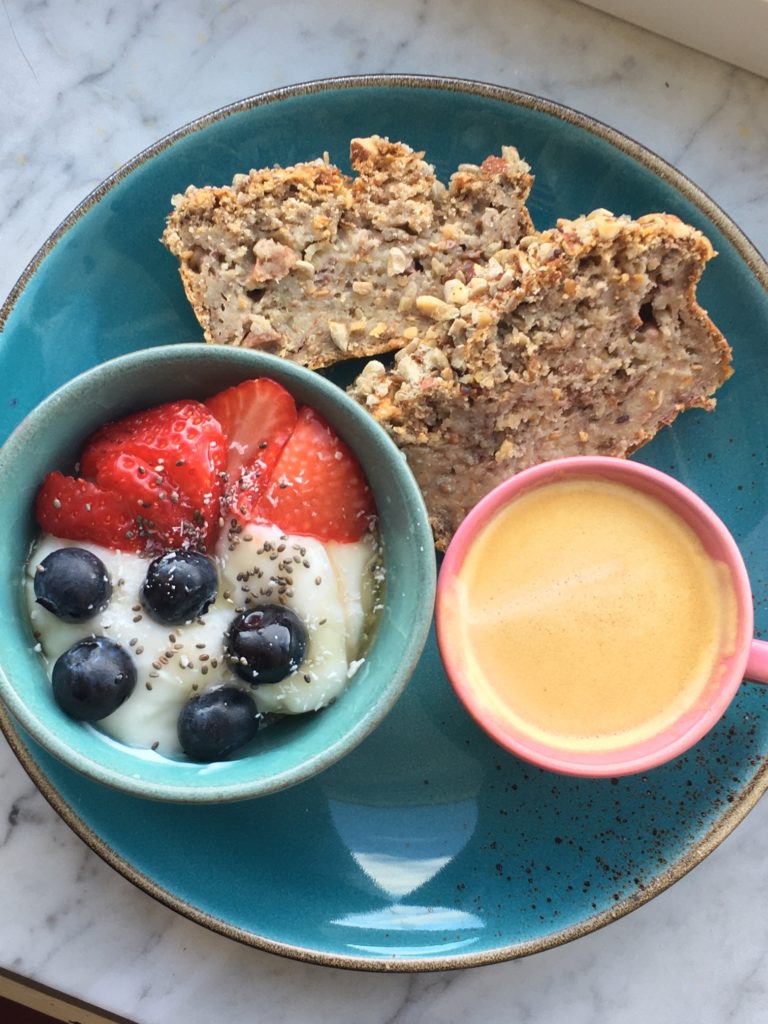 You need:
1 cup spelt flour
1/2 cup oats
1/4 cup coconut flour
4 tbsp chia seeds & 1/2 cup water to make chia eggs
– (inspired by Julie Van den Kerckhove)
4 tbsp grounded flax seeds
1 cup mylk (I used oat milk)
1 tbsp melted coconut oil
1 tsp cinnamon
2 tbsp coconut yoghurt (you see there is a tropic theme going on)
3 ripe bananas
1/4 cup raisins
A touch of salt
Nuts & seeds and a touch of coconut sugar to top off

Then what?

Put the oven on 175° C
Put the oil in your mixing bowl (if it's heat resistent) in the heated oven
Put the flour, oats, flax seeds in a food processor, process until finely ground.
Add cinnamon.
Take the mixing bowl out of the oven, add the mashed bananas.
Add the mylk.
Add the yoghurt.
Add the raisins.
Add the chia eggs.
Mix dry & wet ingredients.
Chop or grind the nuts & seeds.
Put everything in the baking tray, add the nuts & seeds in the end. Sprinkle some coconut sugar on top.

Bake for 1 1/2 hour. Check regularly with a fork, every oven is different.

Enjoy!